Levels of civilization and the status of the civilization on planet Earth
Without knowing it, mankind has been on a civilization leap for a 1/4 millennium. This must now be completed as quickly as possible with the most urgently needed planet renovation.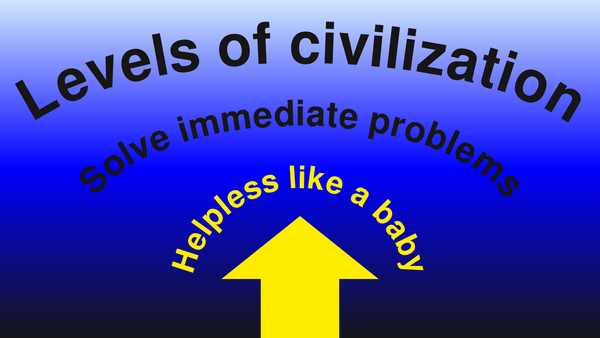 No matter whether a civilization has just invented a bow and arrow or can destroy an entire city at once with a hydrogen bomb, the decisive question is

"Could all disasters that led to mass extinctions in the last billion years be averted?"

If the answer to this question is "no", then it is civilization level 0 "helpless as a baby".

If today an astronomer would discover an asteroid, size like the one 66 million years ago, impact in 2 years, what could mankind do? Unlike some Hollywood movies, absolutely nothing. Mankind would be helpless as a baby.

self-caused disasters count too



The first master thesis for the civilization level "Can solve immediate problems" could be the necessary planetary restoration for prevention of climate catastrophe.

technique present, awareness missing



Beyond immediate problems, there are also long-term problems. Problems that will not become critical in one or a hundred years, but only in 500,000,000 years. This long-term problem would be the increase in energy from the sun. Named after the solution, this level of civilization is called "moving planets around".

Even for this level of civilization, all technical prerequisites are available in the first approaches, as this scientific work proves. All that is missing is consciousness.